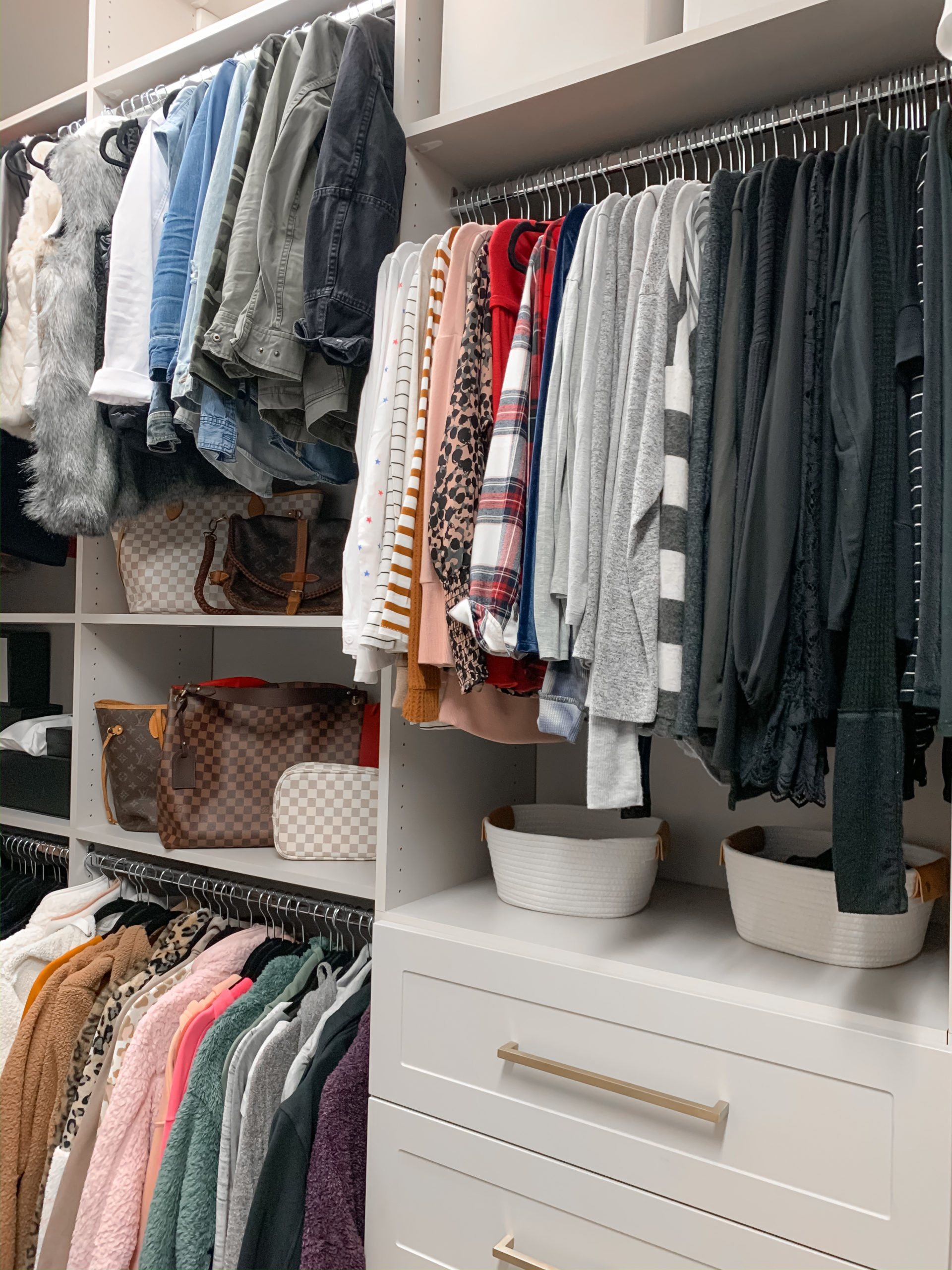 A task we all want to achieve, an organized closet. If I had a dollar for every time I tried to organize it over the last decade…LOL. But, I think I've finally figured out a system that works for me and that I will be able to maintain!
Something we've planned on doing for years was getting a custom closet designed and installed. We wanted to do this prior to moving in and a week after we closed on our new house, we found out we were expecting Sophia! And well…my focus shifted and this just fell off of my radar! So for the last several years, I was working with a closet that was pretty difficult to organize with just a bunch of clothing rods and no real storage options. We made it work by adding a couple of dressers and maximizing the use of the little bit of shelving we had.
A few months ago I had some time to research hiring a custom closet company to finally come and build out some shelving and I have to say…total game changer! I contacted a few different companies and got a few quotes and ended up going with a local company, Custom Living Of Austin and we are SO happy with their work. If you're local, I definitely recommend them. I love that they're a family owned business (Whitney does all the design work and her husband Chez does the install!). This also meant that my point of contact was the same from start to finish which made the design to build out process SO easy and seamless. Whitney came over and we talked about what I wanted, what I needed to be able to store, and other design aspects. She sent me some design options and we worked together to tweak small things and most of that was done over email. The build out only took 2 days- the first day was the demo and paint touch ups, and the second day was the install. Now my closet feels twice as big and it's VERY functional. If you reach out to them, be sure to mention my name and they'll offer you 10% off your custom closet, so generous of them!! They have a lot of great photos of the types of built ins they do on their IG page @customlivingofaustin
You don't have to have a custom closet to implement the organizational tips I'm sharing today, but I wanted to share our experience for those who have been contemplating it. If it's in your budget, I highly recommend it! And if you're local, hopefully this referral can take some of the guess work out for you when searching for the right company.
Now, onto the fun stuff! Here's what we did!
First step: PURGE. I'm not gonna lie…this step is hard, and not fun! I had so much I needed to get rid of! I was guilty of having some maternity clothes, old bridesmaids dresses, and a ton of other things that I haven't touched in years but somehow still brought them with me even during our move. So my rule was, if I haven't worn it in a year, it's gotta go. You know that outfit you wore once to Vegas and loved it? Let it go, chances are when you need something fun to wear like that again, you'll probably be on the hunt for something new. That one pair of shoes you love but they kill your feet so you never reach for them? Let them go! Now with this job, I have obviously accumulated a lot more clothes sand shoes than anyone really needs. So I give my sisters and friends a ton, then the rest I either sell on my Poshmark page (you can find me as heynasreen there) or donate to a local refugee organization. Once I decided what I was going to keep, I could move on to the next step.
Second step: SORT. Next, we sorted through the all of items and made sure everything was hanging on it's own hanger. I use these velvet hangers from Amazon, I switched over a few years ago and they're a game changer for saving space. I also use them for hanging my sweaters and haven't had the problem of them denting my sweaters like other hangers do. From there we separated items into categories: long sleeves, short sleeves, sleeveless, pants, skirts, dresses, jeans, etc.

My closet has an upper rack and lower rack so I decided for the winter I'll keep most of my sweaters, cardigans, fuzzy pullovers, etc. on the bottom racks and place my tee shirts and tanks on the top rack. I also got this closet rod so that I can more easily bring items down that I need.
Third step: COLOR CODE. I have gone back and forth on how to do this. Do I hang all white items together regardless of type, sleeve length, etc? Do I hang all tops that are the same color together? I've honestly tried it a few ways and so far this is the way I'm loving the most. We separated everything out by category and THEN by color. So in the sweater section we have all my sweaters and arranged them in color order, same for tee shirts, cardigans, etc. A friend of mine used to work at Nordstrom years ago and shared how they do their color order with me so I did the same! The order we did from left to right: white, cream/ivory, yellow, orange, pink, red, purple, blue, green, grey, and black. I have also done this to the kids closets and have found it to be so much easier on the eyes than other color ordering I've tried.
You'll be amazed how just those steps above will transform your closet! I can now see everything that I have, and find them so easily so that I can ACTUALLY wear them!
The other day I asked you all to submit any organization questions you may have on how I arrange my things so I'm hoping to answer some here for you.
Shoes: Let's talk shoes. This was hands down the most asked question from you girls. I feel that shoes can be the main reason a closet seems so chaotic because with all the different styles and colors, etc they just look messy. One of my favorite things I did to my closet at the beginning of this year (prior to our custom closet) was getting these stackable shoe drawers. I love that the drawers slide open and closed, there aren't any lids to keep track of, and I can easily see what I have inside. I use the small size for my flats and sandals and the larger size for wedge sandals and for my heels. I stand my booties and boots up on the shelves that I have so that they don't get creased. I recommend measuring out the area you have for shoe storage so that you can figure out how many you can fit across the space and how many you can stack. I have mine on the shelves and have two stacked on top of each other. These could also be stacked on your closet floor and work just as well.

Handbags: Second most asked question is how I store designer handbags. I honestly don't have an elaborate system, I just use the original boxes and dust bags for most of them. I personally prefer keeping them that way so that they stay dust free and don't get scuffed, etc. I also recommend keeping the original stuffing inside of the bags when you're not using them to help maintain their shape. I have a few designated shelves that I keep arrange them on and for the bags that I use the most, I have them on display on the shelves.
Accessories: Many also asked about accessories such as hats, scarves, and jewelry so I wanted to touch on those as well. I still kind of struggle with what to do with scarves – but for now I have them rolled and in a some pretty baskets in the closet. For some of my nicer scarves, I have them on hangers and hung with my dresses. Hats I just stack a couple on top of eachother and place them on designated shelves. And last, jewelry storage. I have a few jewelry organizers for my everyday jewelry that I keep inside of my closet. Kinda like a catch all area that I can keep my most worn pieces so that they're easily accessible. I'll link them here!

I'm going to link all of my favorite organizational items below that I purchased for my closet. I hope you find this post helpful when tackling your closet this season!!!