Hi friends,
The past few weeks have opened my eyes to so many things I never fully understood, and I know I have so much to learn about racism in our country. I want to continue to teach my kids about the beauty and importance of diversity and have been searching for resources to help me do just that. After asking friends, family, you girls, and finding things on social media and the internet – I wanted to create an ongoing list of resources where we can pull from as we continue this important conversation in our homes. Please feel free to comment with any additions, I hope you all find this helpful! (Image credit: @ohhappydani)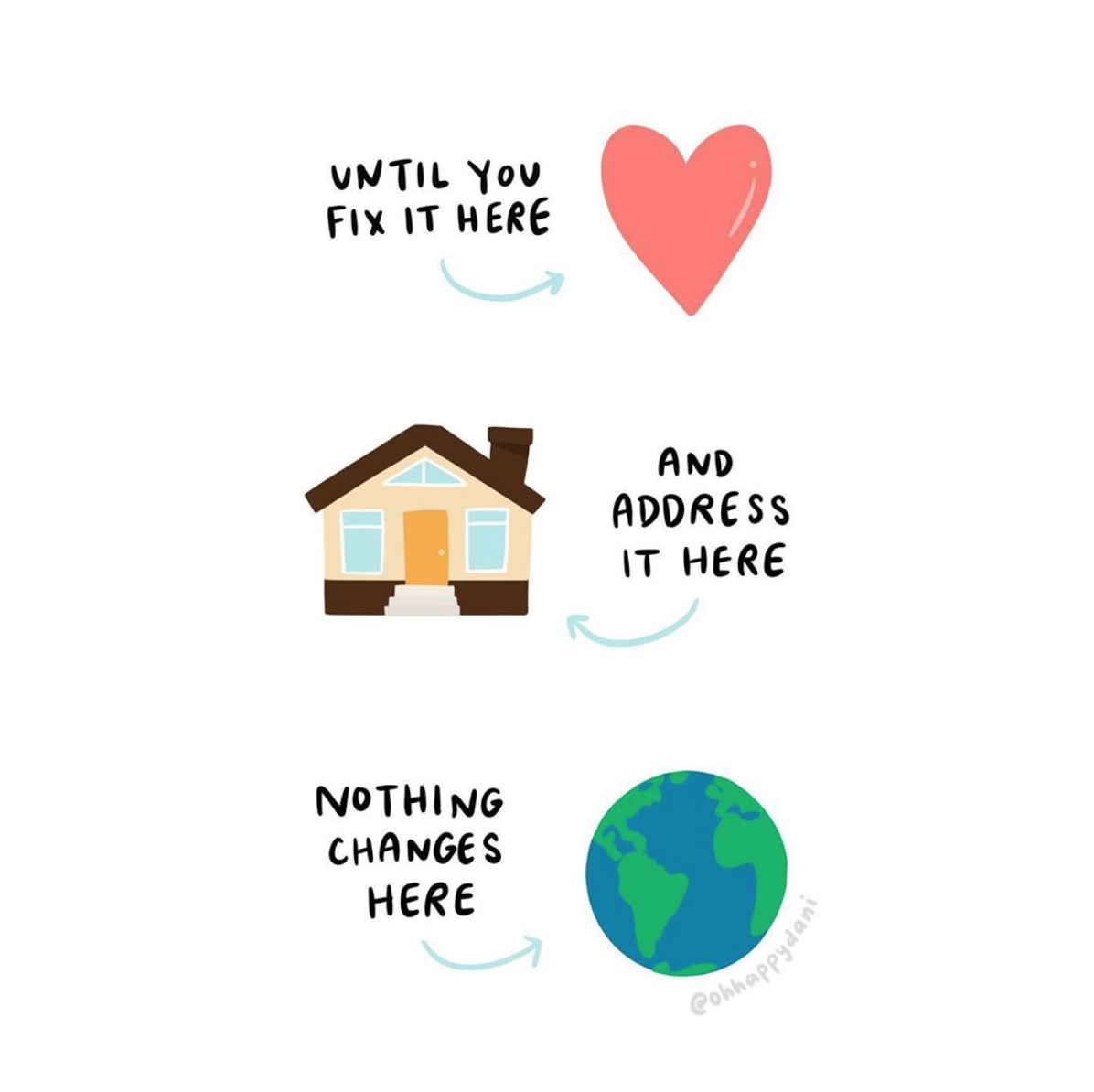 Articles for Parents
Talking to Kids About Racism, Early and Often
How do I talk to my kids about race and racism?
White Privilege: Unpacking the Invisible Knapsack
A White Families' Guide for Talking About Racism (by teachers @readlikearockstar & @apron_education)
The POC Families' Guide for Talking About Racism (by teachers @readlikearockstar & @apron_education)
Anti-Racism for Kids: An Age-by-Age Guide to Fighting Hate
14 Little Ways to Encourage Kindness
25 Resources for Teaching Kids about Diversity
The Parent's Guide to Teaching Kids About Cultural Diversity & Inclusion
How Important are Ethnic Dolls?
Talking Race with Young Children
Multi Cultural Classroom Materials & Diverse Toys for Preschool
Condoleezza Rice: This Moment Cries Out for Us to Confront Race in America
How White Parents Can Talk to Their Kids About Race
Anti-Racist Parenting Conversations from a Children's Counselor
---
Videos for Parents
How to Speak to Kids about Race Relations in America
TED Talk – We Need to Talk About an Injustice with Bryan Stevenson
Be Boldly Anti-Racist from a Teacher
How I Teach Kids About Racism from a Teacher
What Beyonce Taught Me About Race
---
Videos for Kids
Sesame Street & CNN Present Coming Together: Standing Up to Racism (Saturday, June 6th at 9am CT)
A Children's Book About Racism
Discrimination Explained For Kids
Why Am I The Only African American On My Swim Team?
---
Adult Books
**Click here for a list of Black Owned Bookstores in the U.S. and here's a Austin local, black owned bookstore**
White Fragility: Why It's So Hard For White People to Talk About Racism by Robin Diangelo
How to be an Antiracist by Ibram X. Kendi
The Color of Law: A Forgotten History of How Our Government Segregated America by Richard Rothstein
So You Want to Talk About Race by Ijeoma Oluo
Why Are All the Black Kids Sitting Together in the Cafeteria? And Other Conversations About Race by Beverly Daniel Tatum
Uprooting Racism: How White People Can Work for Racial Justice by Paul Kivel
I Know Why the Caged Bird Sings by Maya Angelou
Just Mercy by Bryan Stevenson
The Color Purple by Alice Walker
The Warmth of Other Suns by Isabel Wilkerson
Eloquent Rage: A Black Feminist Discovers Her Superpower by Dr. Brittney Cooper
The Bluest Eye by Toni Morrison
---
Children's Books
(So many of these recommendations came from you girls, THANK YOU!)
**Click here for a list of Black Owned Bookstores in the U.S. and here's a Austin local, black owned bookstore**
One Big Heart by Lindsey Davis
Chocolate Me! by Taye Diggs
Say Something by Peter H. Reynolds
Hair Love by Matthew A. Cherry
All Are Welcome by Alexander Penfold
The Skin You Live In by Michael Tyler
One Love by Cedella Marley
Not My Idea: A Book About Whiteness by Anastasia Higginbotham
The Youngest Marcher by Cynthia Levinson
Skin Like Mine by Latashia M. Perry
I'm Like You, You're Like Me by Cindy Gainer
A Kids Book About Racism by Jelani Memory
Sulwe by Lupita Nyong'o
Shades of People by Shelley Retner and Sheila M. Kelly
Last Stop on Market Street by Matt de la Pena
Something Happened In Our Town by Marianne Celano
Woke Baby by Mahogany L. Browne
Little Leaders: Bold Women in Black History by Vashti Harrison
Let's Talk About Race by Julius Lester
Hidden Figures: The True Story of Four Black Women and the Space Race by Margot Lee Shetterly
Dream Big, Little One by Vashti Harrison
Parker Looks Up by Parker Curry & Jessica Curry
Momma, Did You Hear the News? by Sanya Whittaker Gragg
The Name Jar by Yangsook Choi
The Day You Begin by Jacqueline Woodson
Juno Valentine and the Fantastic Adventure by Eva Chen
A is for Activist by Innosanto Nagara
Discussing Race with Young Children Virtual Library (English & Spanish)
Gala Theater Bilingual Read Alouds/Social Emotional Book Library
31 Children's Books to Support Conversations on Racism)
I also highly recommend following @diversereads on instagram.
---
Documentaries & Movies for Adults
For Adults on Netflix:
13th
Dear White People
See You Yesterday
American Son
When They See Us
LA 92
Becoming
For Adults on Hulu:
If Beale Street Could Talk
The Hate U Give
Hidden Figures (good for older kids, too)
For Adults to Rent:
Selma
Just Mercy
White Like Me
I Am Not Your Negro
For Kids on Netflix:
Motown Magic
The Boy Who Harnessed the Wind (older kids)
For Kids on Amazon Prime:
A Snowy Day
For Kids on Disney Plus or to Rent:
Remember the Titans
Disney's Ruby Bridges
Akeelah and the Bee
Disney's The Princess and the Frog
---
Podcasts
Parenting Forward podcast (episode 'Five Pandemic Parenting Lessons with Cindy Wang Brandt")
1619 – The New York Times
Pod Save the People – Crooked Media
About Race
The Diversity Gap
Seeing White – John Biewen
Intersectionality Matters! by Kimberle Crenshaw
Call Your Girlfriend with Rachel Cargle – White Fragility
Code Switch – NPR
Momentum: A Race Forward Podcast
Fare of the Free Child Podcast
---
Petitions
---
Donate
Donate Sephora points to National Black Justice Coalition (no purchase required)
Click here for more places and ways to donate
---
Infographics
6 Things You Can Do As a Family to be Anti-Racist
A Guide for South Asian Allyship During the BLM Movement #WiseUpandAlly
Are Your Kids Too Young to Talk About Race? Nope.
---
We can't thank y'all enough for helping to build this post with us by sending in such amazing and powerful ideas and resources! Together, we can educate ourselves, be allies, and work hard to make lasting, necessary change in our country.