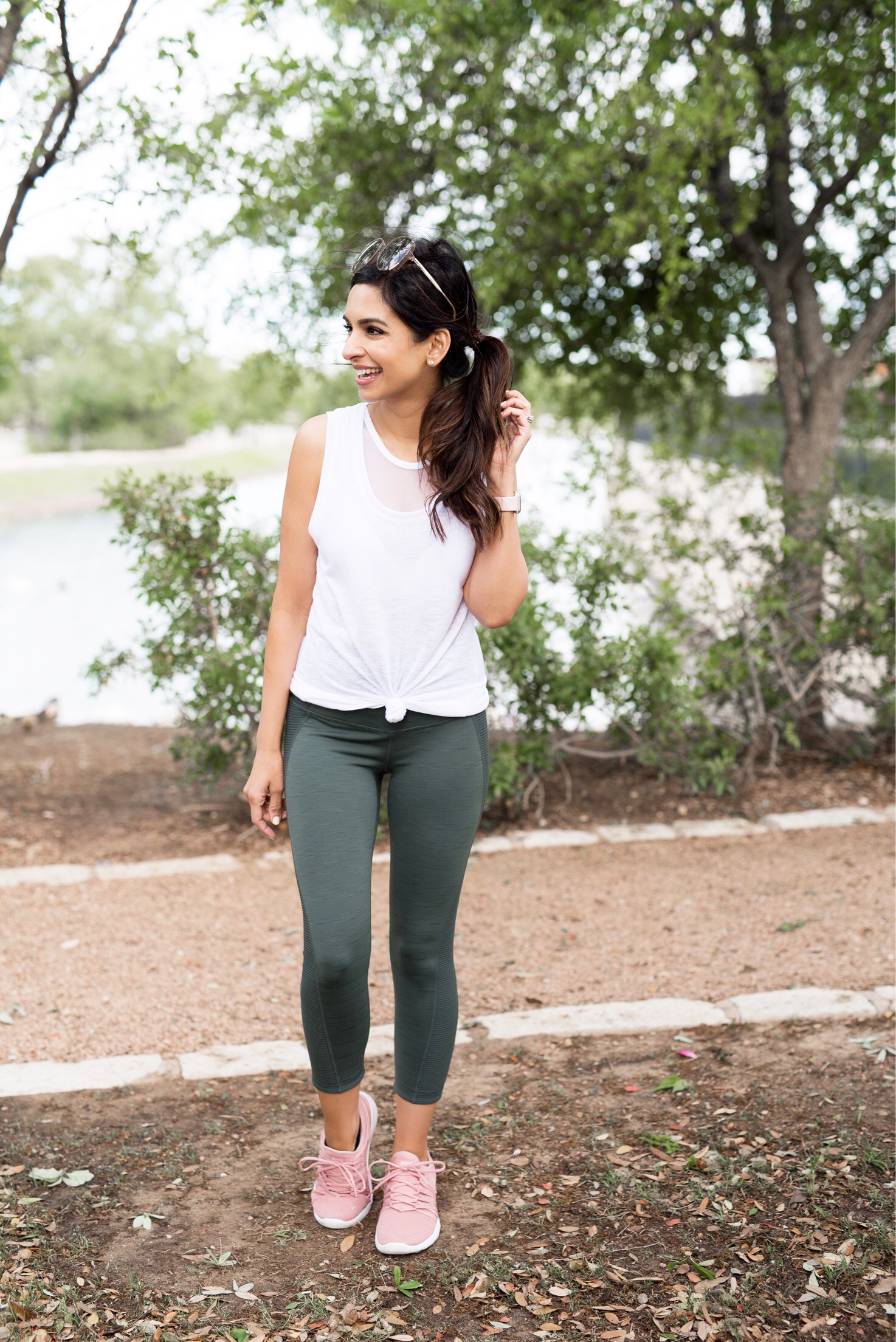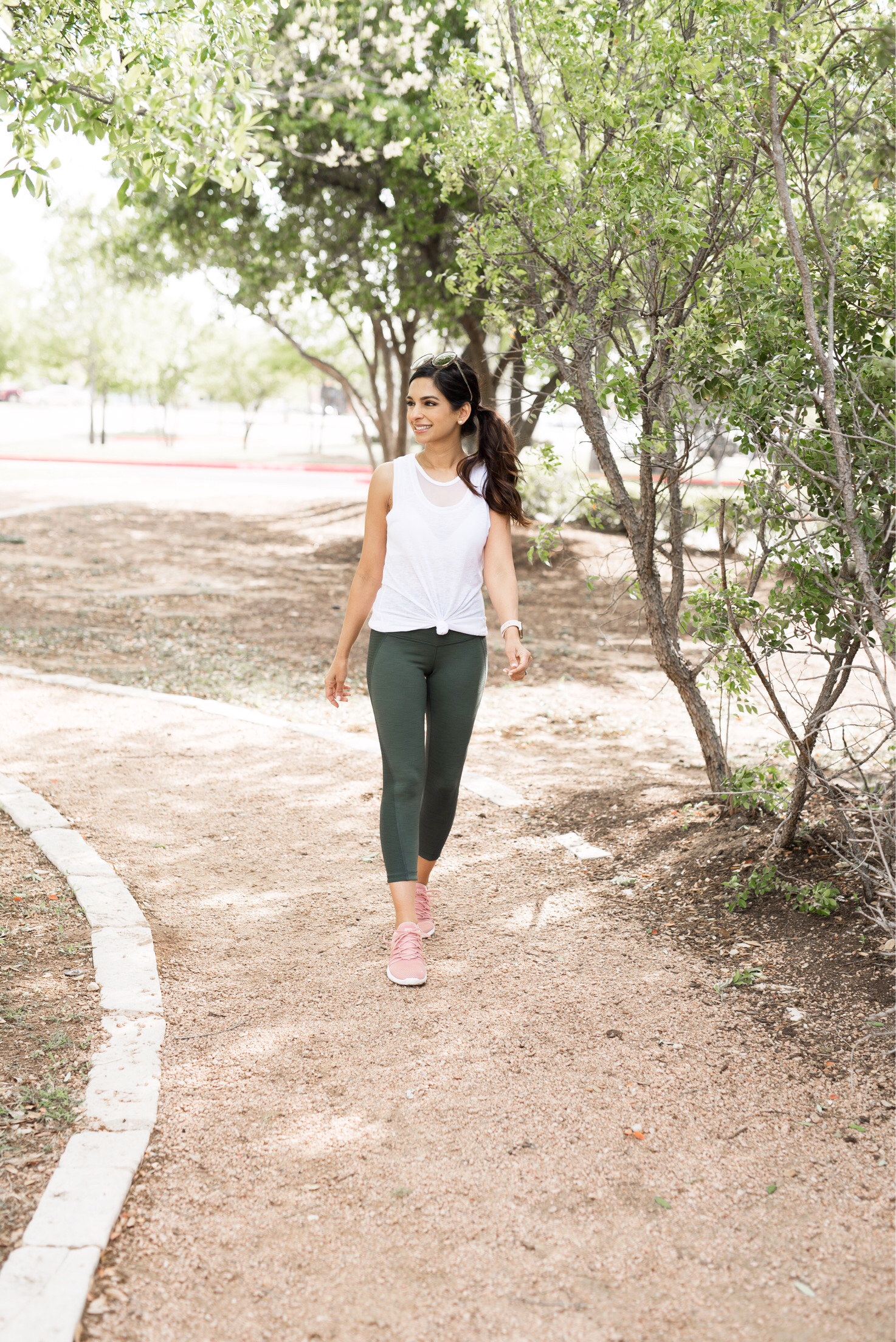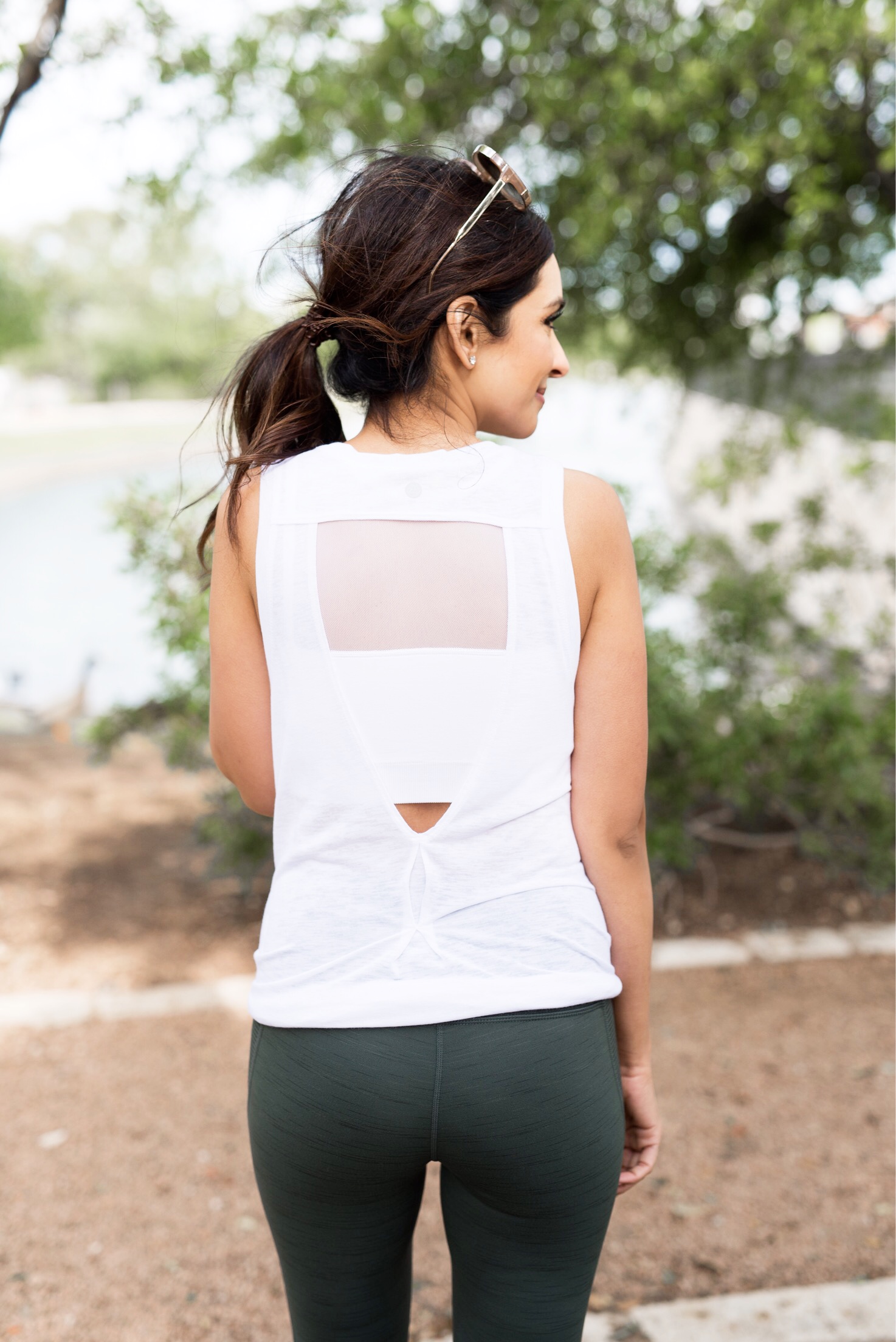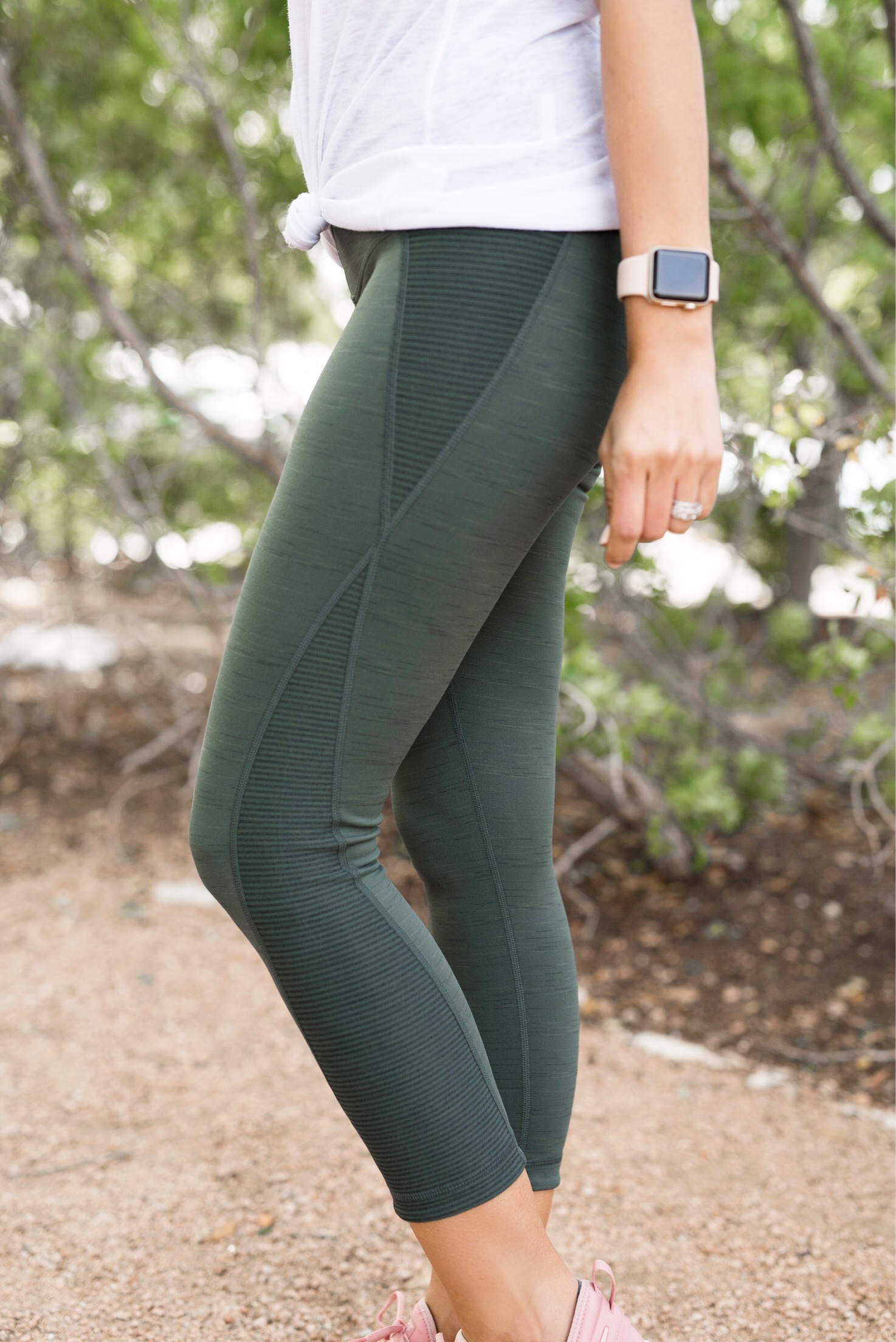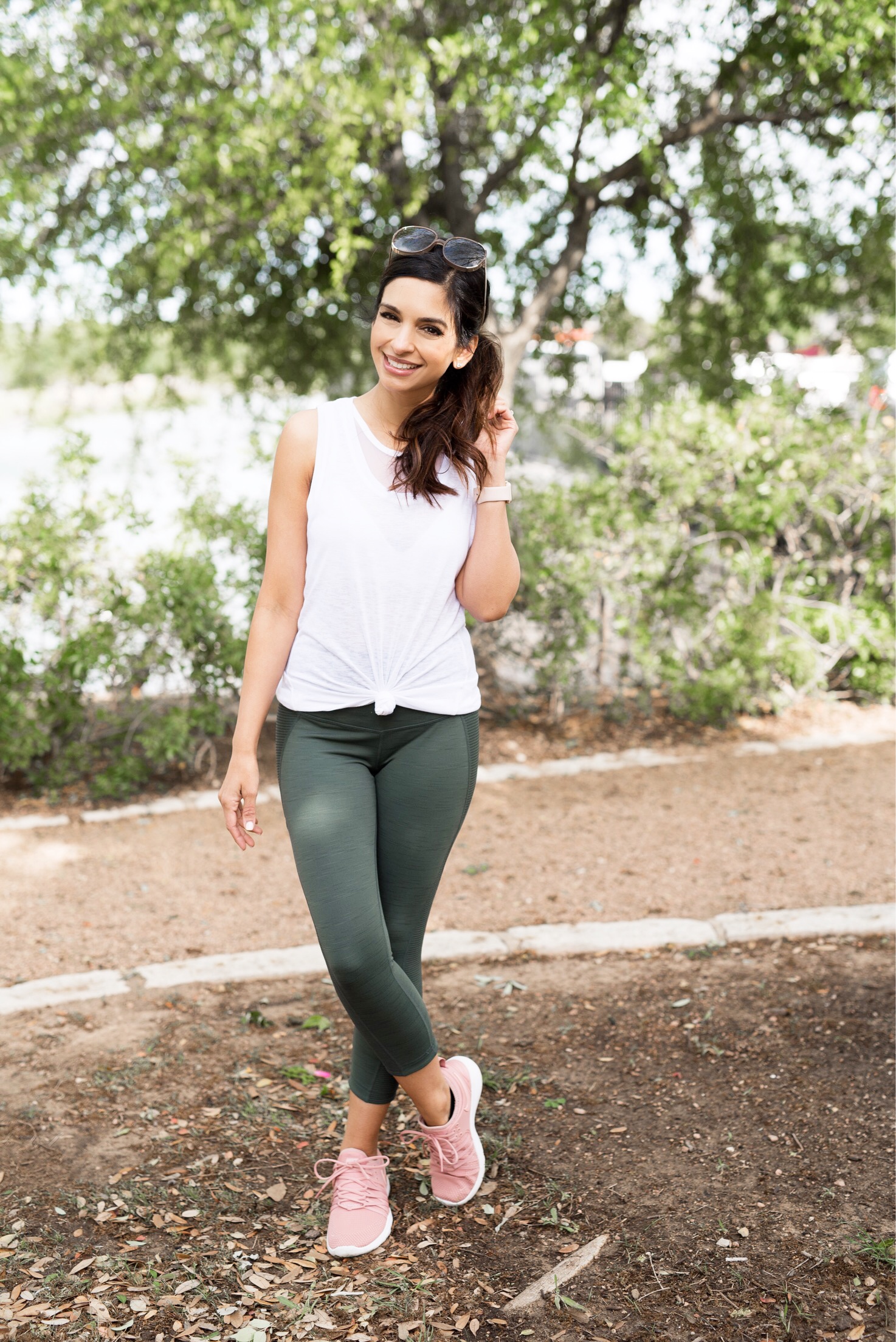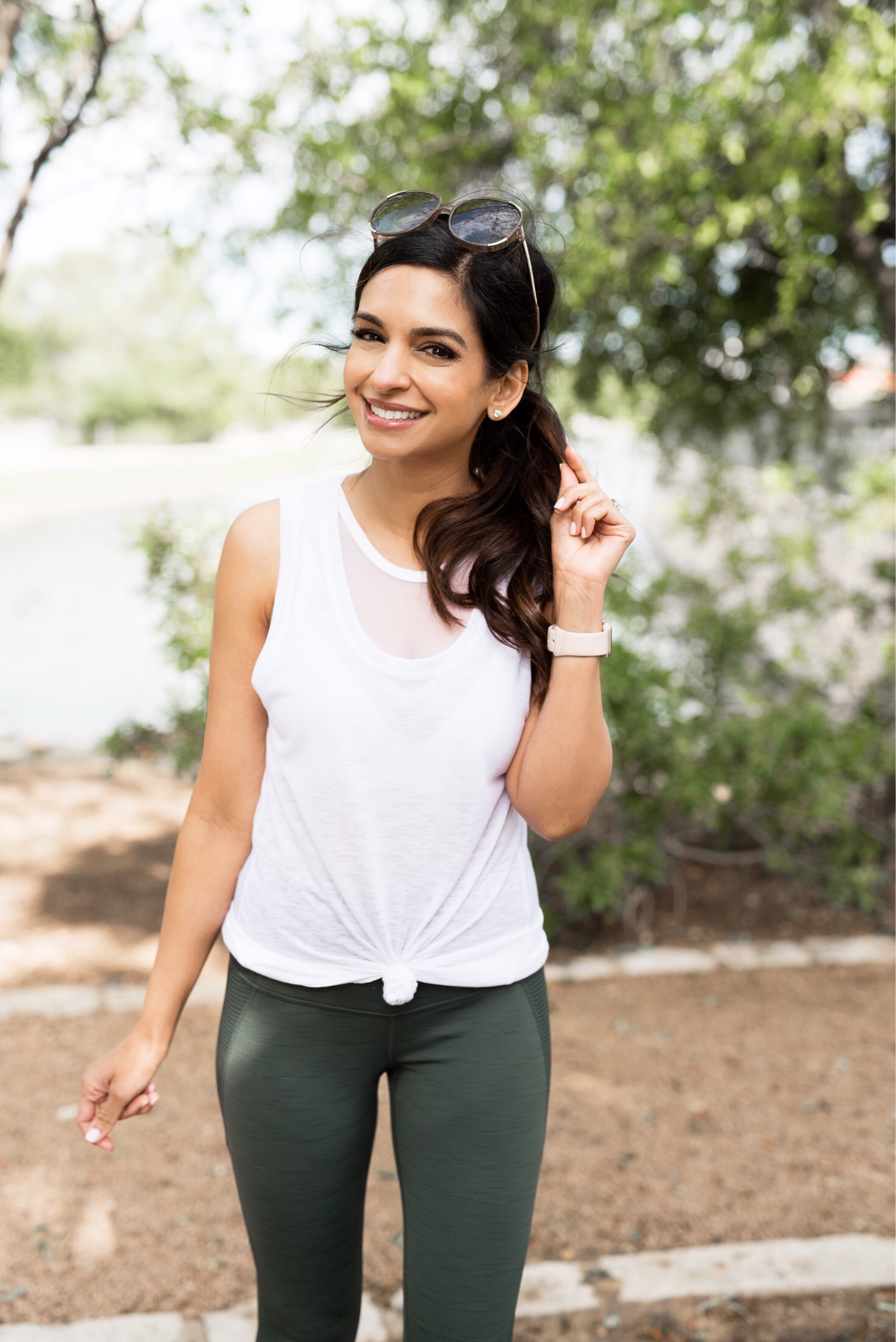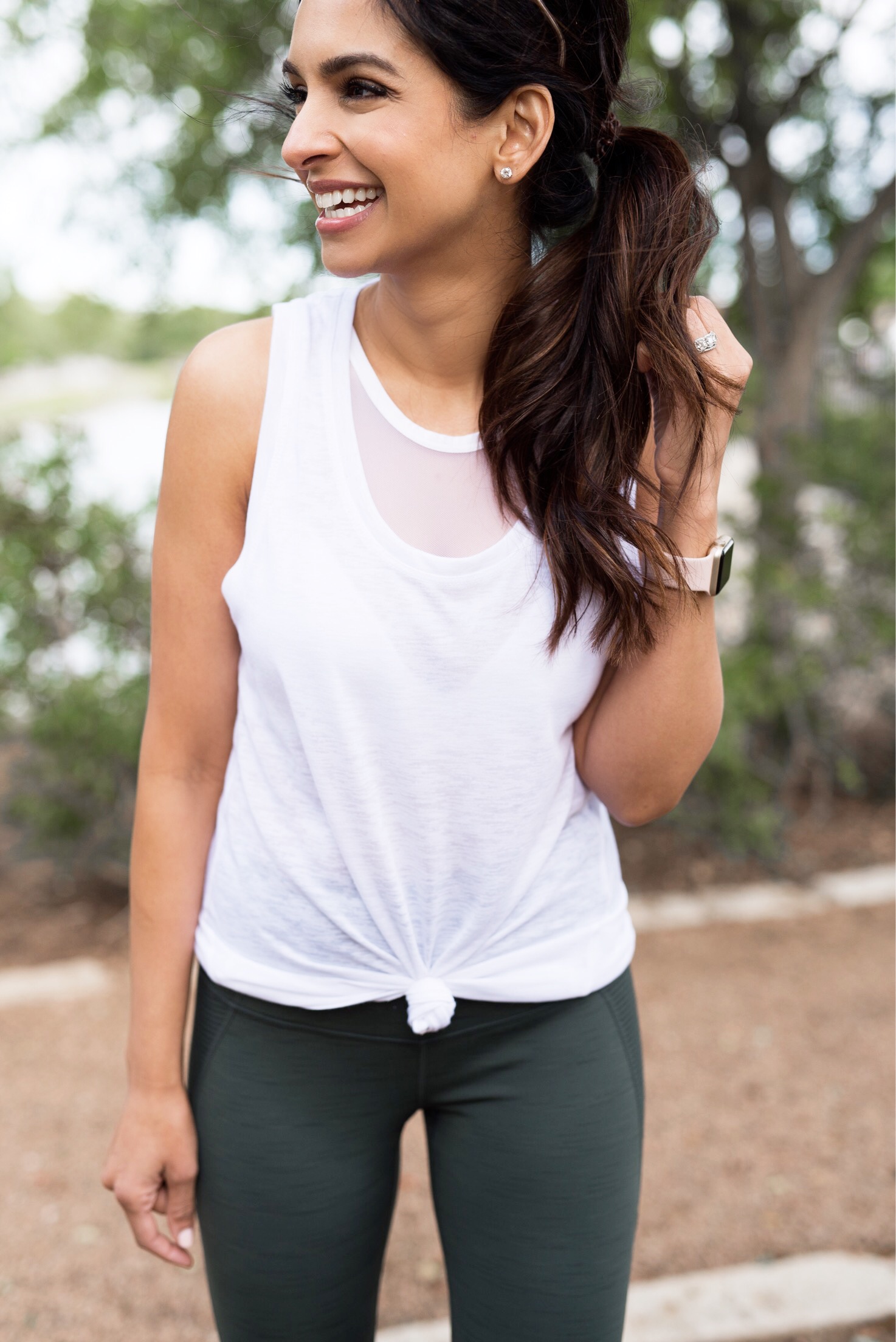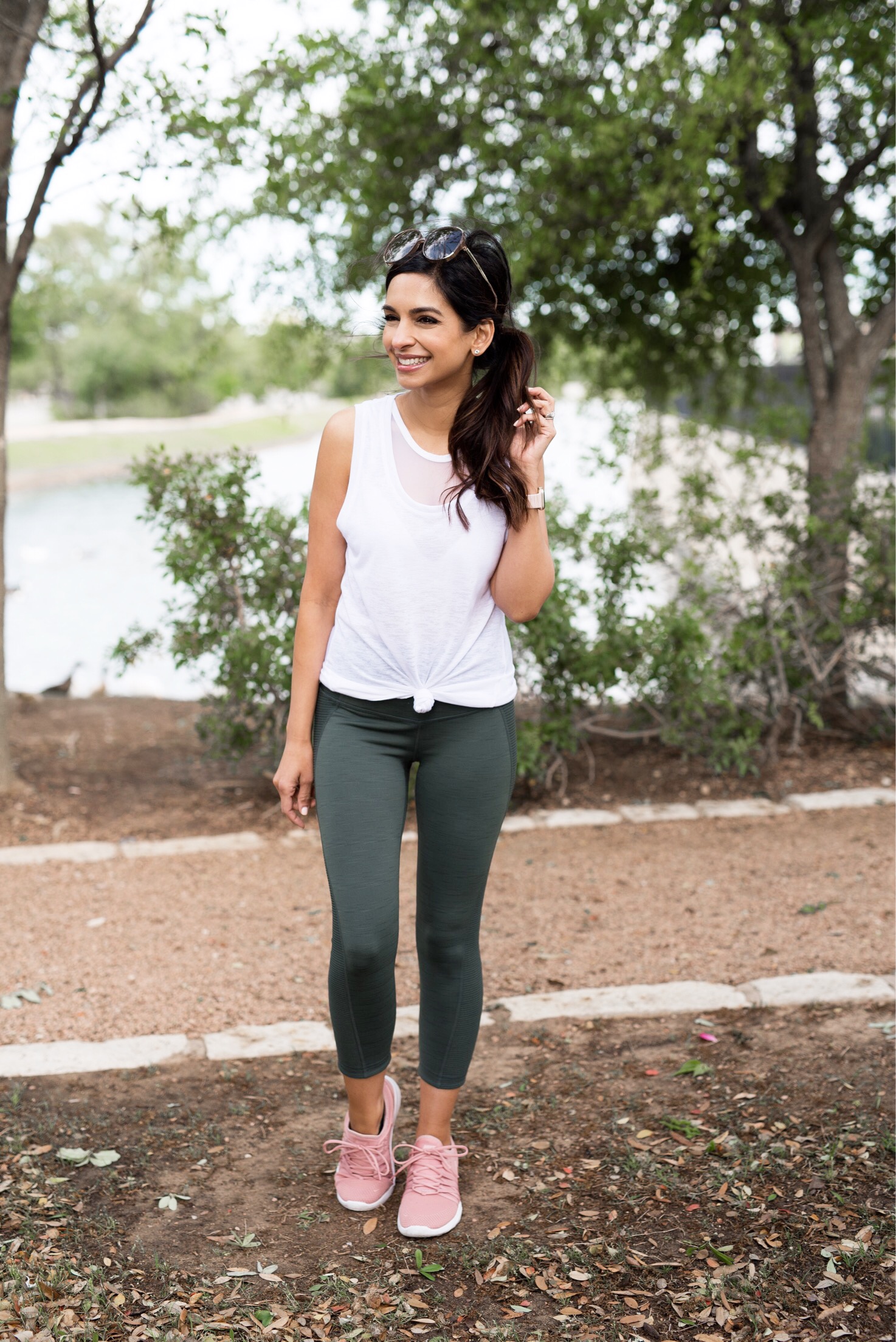 This workout look with Nordstrom is one of my favorites ever! For me, it's key to have some cute, well fitting, and quality workout gear in my wardrobe to help motivate me to get into gear. I still like to look cute when I workout, it just makes it all more fun! As you all know by now, Zella leggings are my FAV and I recently ordered this pair and I'm totally obsessed with how soft and comfy they are. They are high waisted (that's a must for me!) and hug you in the right places. They come in this pretty grey/green, black, and a really fun shade of purple. I paired them with this lightweight workout tank which I have in black as well because I love it so much. For size reference, I am wearing an XXS in the leggings and the tank, and a size small in this bra that has great support and super cute for layering. My pink Nikes just sold out but I've linked another pair above that are super similar.
Today I'm sharing a bit about my fitness routine after having kids. Honestly, it's a challenge for most busy moms to find time and energy to exercise. But because it's important to me and makes me feel good, I TRY to make it happen. I'm nowhere near a fitness expert and I'm sure there's a lot more I could be doing to reach my fitness goals but I'm sharing with you all what has worked for me and what fits into my current lifestyle as a busy mom.
On a good week, I aim to get 4 workouts in (a 5th is a bonus!). This typically consists of 2-3 days of 45 minute spin classes and 1-2 days of light weight training in the gym (think squats, lunges, bicep curls, and abs). Lately, this has been a challenge for me and I've been averaging more like 2-3 workouts a week. It is my goal for the rest of April & May to get back into gear! We recently purchased a Peloton bike which will definitely help me with this so that I can do home workouts. Swimsuit season is around the corner and let's just say, I have some work to do!!!
Here are the answers to a few of the most asked questions that came from all of you:
Q: What is your favorite type of workout?
A: Hands down, rhythm based spin classes. There's something about the dark room, good music, and high energy that just makes me excited to go! For me, it has been key to find a workout that I actually enjoy. I started doing spin about 1.5 years ago and this is the longest I've stayed with one type of workout. It has worked well for me! Other group classes I really enjoy are Barre and Pilates.
Q: How do you stay motivated to exercise when you're busy with 3 kids?
A: I have to be honest here and say it's not always easy!! Some days, I give up and choose not to go and I'm okay with that. I'm not perfect and sometimes I just don't have it in me! But, the days that I do go, I have more energy and am in a way better mood (it's true!). It's also a little break from the chaos that is often waiting for me at home 😉
Q: What time of day to you find most effective to workout?
A: For me- it's morning! If I don't get it done in the morning, there's a 50/50 chance I may bail all together on it! I am trying to workout during my daughter's nap time on days I can't go first thing!
Q: Do you workout at home or in a gym?
A: I've always been much better with group fitness than working out on my own. But that's not always easy to make time for! If I can go to a class, I take it when the kids are at school (and have my parents or nanny with my youngest) and on the weekends when my husband is home. Since we now have the Peloton bike, I plan to workout at least 2-3 days a week at home and 2 days of a class or gym workout. This is my goal, let's see if I can do it!!
Q: What does your daily diet look like?
A: This is kind of a tough question for me because I don't like to stick to a specific diet. I eat almost everything, and if I know I can't have it I just want it more! BUT the key for me is moderation and that's so important if you're a foodie like me. If I'm craving something sweet or salty, I let myself have a little or else you may later find me in the pantry eating a whole bag of chips (true story lol!) or a whole sleeve of Girl Scout cookies. But for the most part, I just eat clean, fresh foods and stay away from processed foods. I also try to save having a dessert until the weekend.
Q: What does a typical day of meals look like?
A: I have to preface this answer by saying that some days my diet consists of leftover kids chicken nuggets, a half eaten apple, or whatever is left on my kids' plates because…#momlife. It's something I've really been working on! So now- my breakfast usually consists of a hard boiled egg white with avocado toast and a handful of berries, followed by a salad with chicken or sushi for lunch, and a protein and veggie for dinner. Snacks are nuts and fruit, the nuts satisfy my desire for crunchy chips and fresh fruit is always my favorite!
My fitness routine is continuously evolving and changing based on our family's schedule and I hope to be able to continue to build upon it. It's certainly a work in progress but it's a healthy balance for my lifestyle! My one piece of advice is to figure out what works for you and do it- even if that means it's a home workout once or twice a week, do it! You can continue to build upon it over time. What are your fitness goals for this month?! I'd love to hear them!
XO
Nas
This post was sponsored by Nordstrom. All thoughts and opinions are my own.