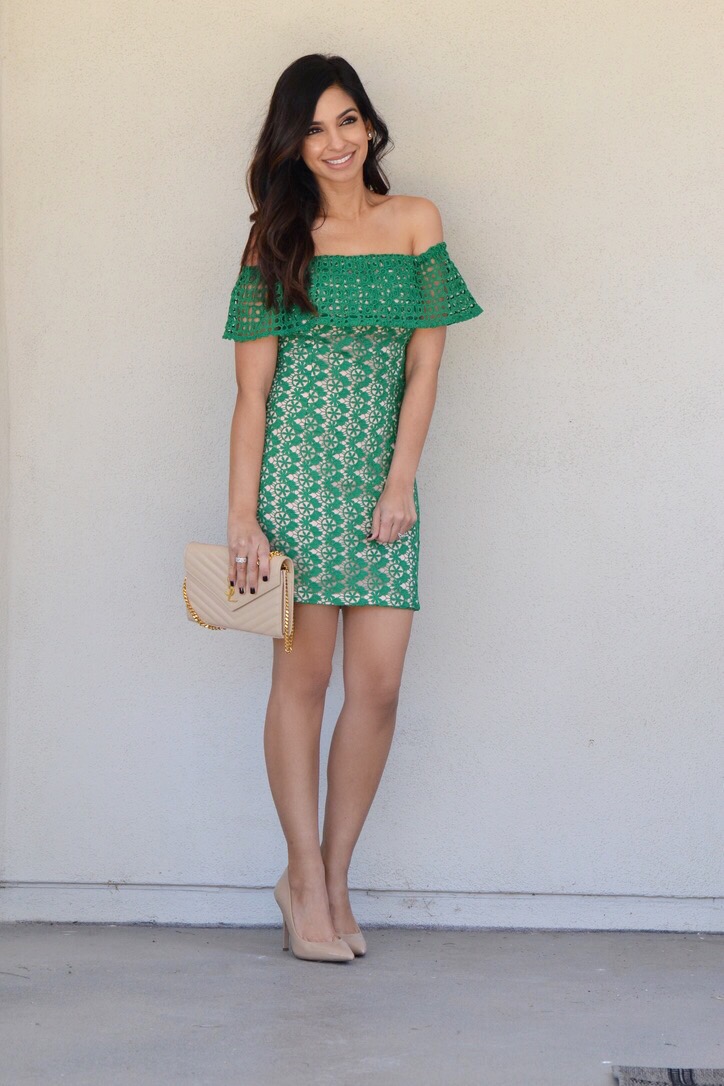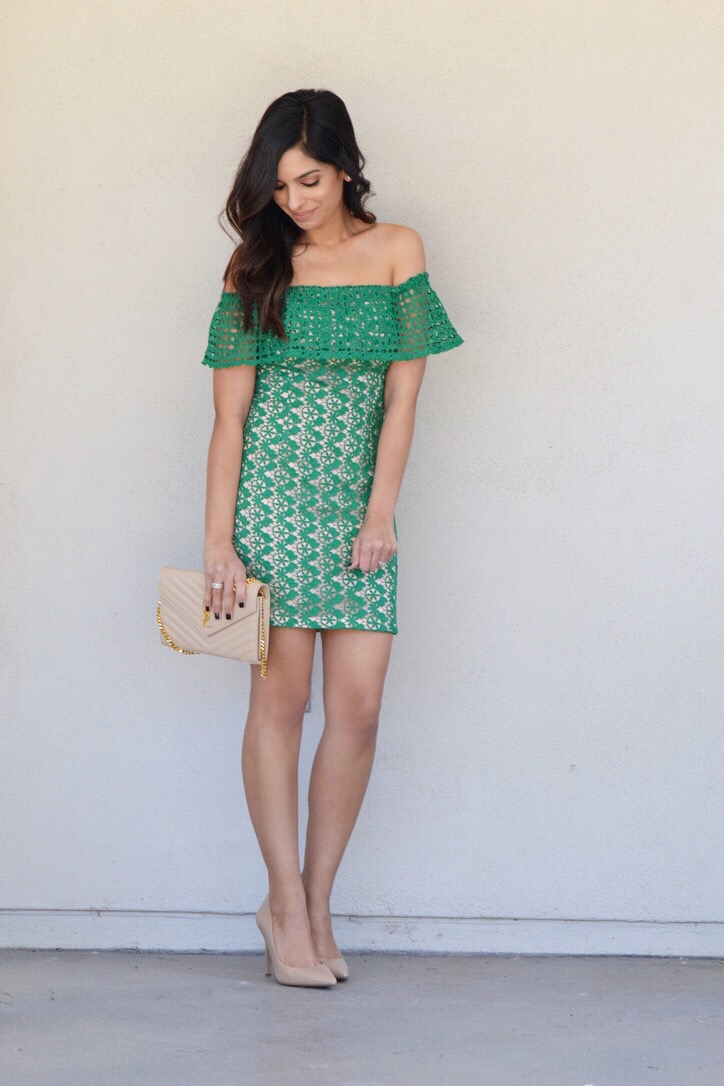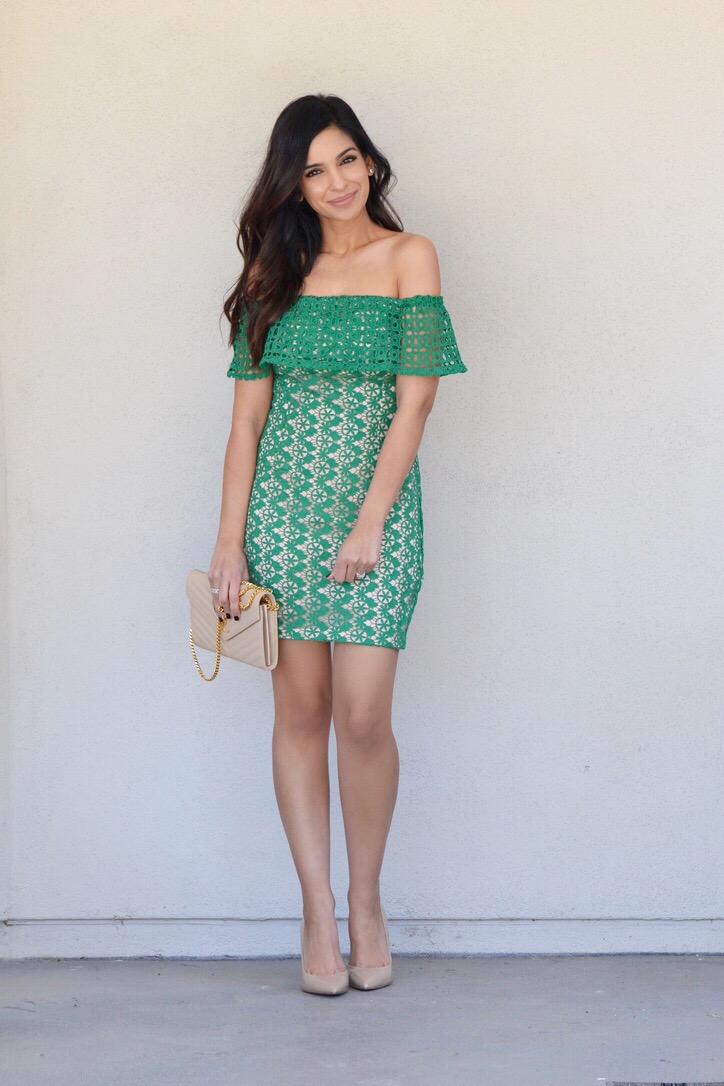 Click HERE for this lace off the shoulder dress
Being 5'1 ", I'm always on the hunt for petite friendly clothing options. I was so excited when I received two dresses from the online boutique Petite Dressing  that I fell in love with at first sight!
This green lace off the shoulder dress is going to be perfect for an upcoming wedding or date night and can be dressed down in the spring with wedge sandals. I'm so excited to find a place to wear it! I also loved this navy flounce bodycon dress that I styled with a faux fur and burgundy heels for a night out this winter.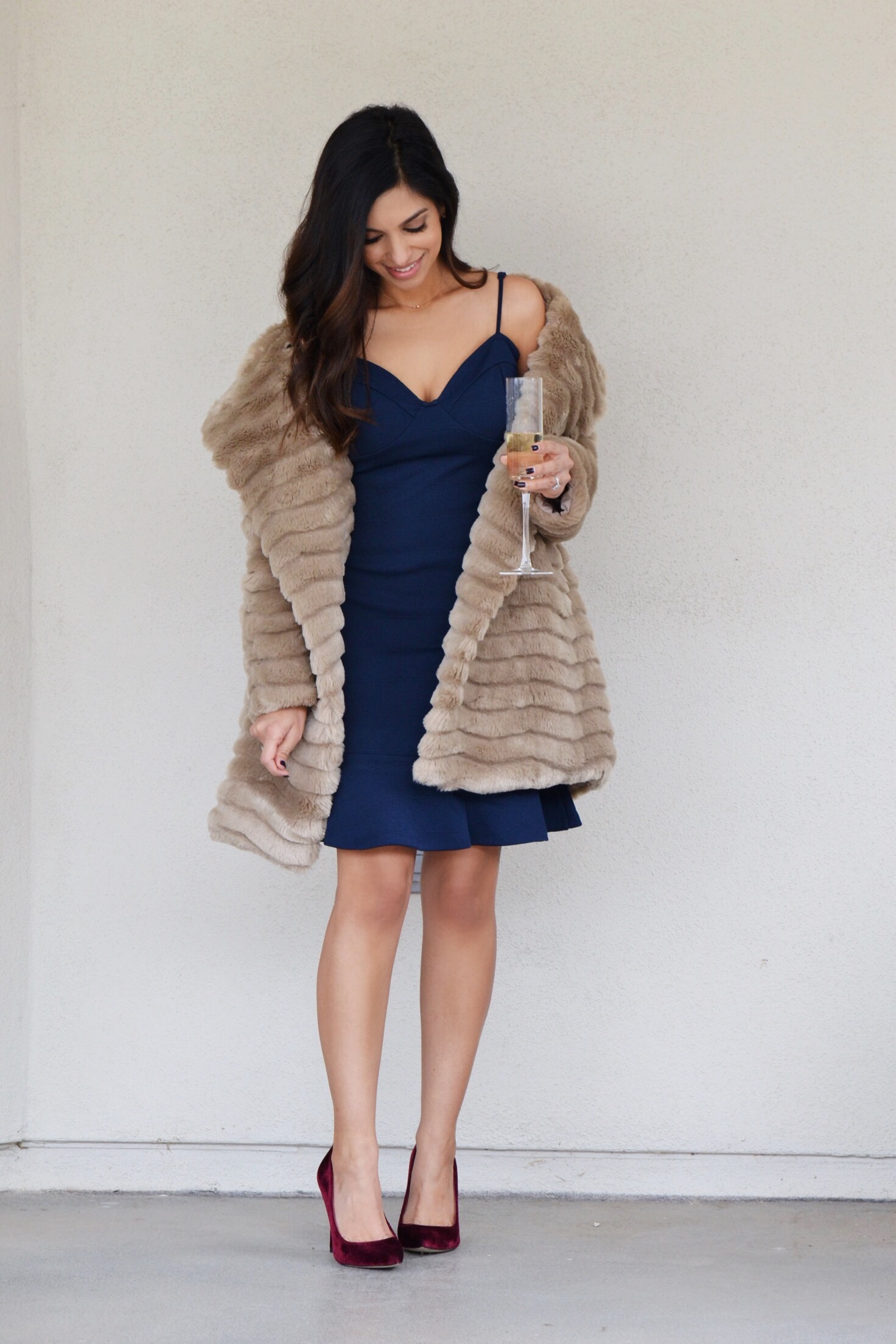 Click HERE for this navy bodycon dress
Until this point, I honestly have never put on a dress that fit like a glove and didn't need a single alteration. No shortening of the hem, no shoulder strap adjustment, no safety pins, nothing! The fit of these dresses ran exactly true to size for me (I'm wearing in XS in both dresses) and the quality is fabulous also. I was so pleasantly surprised when I tried these dresses on and I will definitely be going back for more! Check out their website HERE to see all the great designs they have.
Unfortunately, not all retailers carry petite sizing. Here are a few friendly tips for petite shoppers:
Find a good and inexpensive place for alterations- I'm lucky in this department because my mom is the alterations queen! If you find something you love, it's totally worth the extra money to make sure it fits you right or else it will just sit in your closet and collect dust. Trust me, I know!
When buying denim or other pants, look for cropped styles because usually that's right at the ankle for me which is perfect in the summer with sandals and into the winter with booties. I also love to roll my jeans 1-2 times to create a cuff when they're long for a casual and relaxed look.
For sweaters & cardigans- roll up the sleeve one or two times which also gives you a more relaxed look.
Learn to front knot! I knot a ton of my t-shirts when layering and when worn alone because they're often too long for me.
Perfect the front tuck. Front tucking is my best friend and it is how I'm able to wear most of my non petite tops and sweaters. Don't overthink it, just tuck a bit of the front into the top of your jeans right in the center!
In the end, I don't let my height or size limit my choices or confidence! We are all different shapes and sizes and there are so many options out there for us. Find clothing that you are comfortable and confident in.
Some of the other retailers I shop at and carry petite sizing or petite friendly clothing are:
Nordstrom (I buy a lot from the BP & TopShop brands as well as many designers that have petite sizing available)
I'd love to hear your tips or tricks that you use when putting an outfit together!
XO
Nas