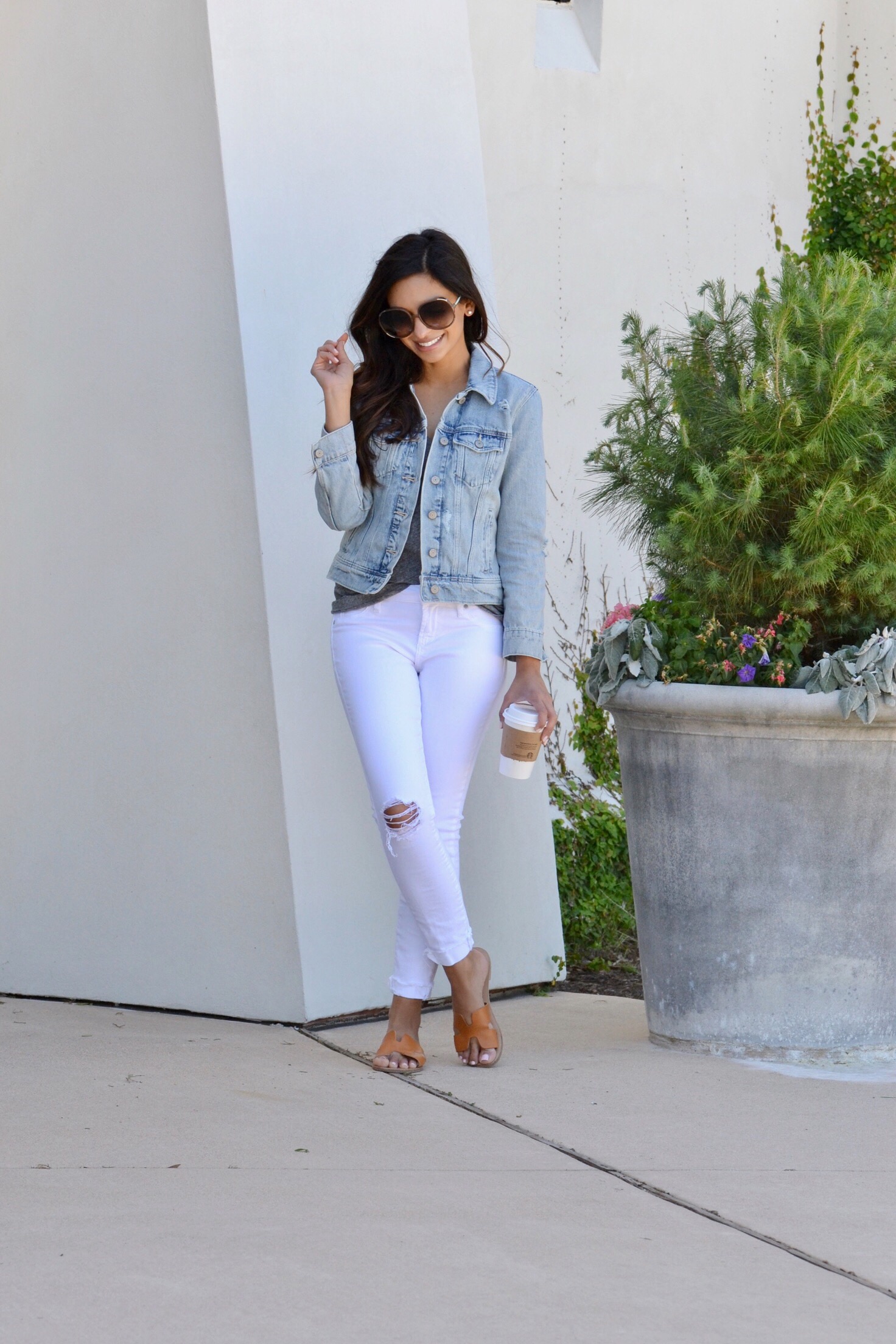 One of my favorite pieces of clothing to wear are white jeans! Who's with me?! Some may say to wait after Memorial Day weekend but I'm a rule breaker 😉 I wear white denim year round and I'm sharing 4 of my favorites that are my tried and true pairs.

I'm going to give my review from left to right on each of these!
1) Articles of Society Distressed Skinny Jeans: This first pair are the ones I'm wearing in the photo above and some of my favorites from last year! I buy a lot of jeans that are by this brand because they're affordable, stretchy, and super comfortable. I love the slight distressing on these and they are great to dress up or down! I wear a size 24 in this brand.
2) Articles of Society Sarah Skinny Jeans: These are another by the same brand that I have and love. They run long on me so I got mine hemmed complimentary at Nordstrom (one of my favorite services they have!). They are super soft and stretchy as well, and just an easy pair of white denim with no distressing. I wear a size 24 in these. If you're between sizes, I suggest sizing down.
3) Paige Verdugo Ankle Skinny Jeans: If you're looking for a good designer white pair of denim, look no more! I love the fit of these and the quality is great. They don't have a ton of stretch to them which means they don't get baggy overtime with wear. For me, since I wear white jeans so often, it was worth the splurge! This is my go to designer denim brand, they always fit perfectly and last me for years. This particular style runs small so I sized up one size and wear a size 25 in them.
4) High Waisted Busted Knee Skinny Jeans: These had me at high waisted! I love high waisted jeans and I own these same jeans in a dark and lighter wash so when I saw the white, I wanted to try them! I've read some reviews where some people felt the material was thin but I personally do not think so. I haven't had any issues with them being see through and I wear these a bunch! These run small and I ordered one size up and wear a size 25 in these.
If you're on the hunt for white jeans, I hope this post helped narrow it down some! If you're looking for inspo on how to style white jeans, check out my Instagram feed where you can find me wearing them all the time!!
XOXO
Nas
OUTFIT DETAILS: